Kim Sheridan is an award-winning author, filmmaker, and more. Her focus includes animals, the afterlife, health, and the environment. Kim is the founder of Compassion Circle, a not-for-profit organization with a mission to expand the circle of compassion to all beings (home of The Rat Refuge, The Fish Refuge, Vegepet, Green Mush, and more); EnLighthouse Entertainment (which produces award-winning films that make a difference); and Earth Fairy™ Films (which spread the message of environmental responsibility). With a background as a Naturopath, Kim is the co-founder of HealthForce and co-author of Uncooking with Jameth and Kim, empowering people to take charge of their own health and well being. An environmental advocate long before it became trendy, Kim has many years of experience in the realm of environmental action and eco-renovation, merging Feng Shui principles with environmental responsibility. She is also the author of the award-winning book, Animals and the Afterlife, with a goal to provide comfort to those grieving the loss of a beloved animal. Kim has been listed in 2,000 Notable American Women, Who's Who in Executives and Professionals, and Great Minds of the 21st Century. Her goal is to make the world a better place, and to teach compassion and respect for the Earth and all living beings.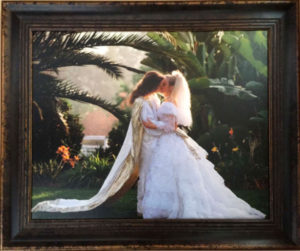 Update:
Kim's beloved husband Jameth passed away in 2016. In addition to dealing with unbearable grief, Kim has had to take over many projects that Jameth left behind.  Therefore, all of her other projects are on hold indefinitely, other than Compassion Circle, which is now run by Kim's longtime assistant Ashley, who now serves as Operations Manager of Compassion Circle. (Pictured at left: Kim Sheridan with her beloved husband Jameth on their wedding day.)
Cherish every moment with your loved ones. Love is all that matters.